Last Updated on February 12, 2021 by Admin
Some of the best Italian djs.
Claudio Cecchetto
Claudio Cecchetto definitely deserves the number one spot as he's the one who started it all, revolutionizing the concept of the deejay in Italy and at the same time creating commercially valuable ways to get music to younger generations. Aside from being a DJ, Cecchetto is also a very successful television host, a medium for which he showed a particular talent. Cecchetto created Radio Dee Jay, one of the most successful radio stations in Italy, as well as Radio Capital. Cecchetto is a volcano of ideas and a man that always seems to know exactly what trends are up and coming–and where they are going. While this DJ may not be as strictly talented as some of the people he's discovered, he is certainly a genius in spotting stars and always assembling the right team.

DJ Mario Fargetta
Mario Fargetta
Mario Fargetta is mainly known for his mix and electronic music compositions that started in the switcher room at Radio Deejay and continued in the clubs on the four corners of the planet. DJ Fargetta's style and his rhythm are highly appreciated by club goers. Fargetta's popularity with the club crowd pushed him to the top of the hit parades–including the American charts–and allowed him enough money to start his own label. Currently Fargetta has three labels, one of which is "Get Far," a nice twist on his last name. DJ Fargetta is married to television host Federica Panicucci.
Albertino
Another successful product of Cecchetto and Radio DeeJay, Albertino is also strongly linked to Mario Fargetta. A great live deejay, Albertino's real strength lies in radio. For over 20 years Albertino has reigned over the radio airwaves in Italy with no signs of decline. On the contrary, he remains quite trendy and current. Besides radio, Albertino is actively involved with music-related shows on television.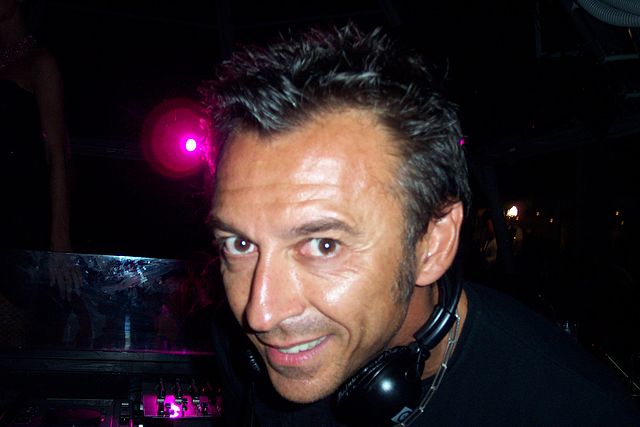 Molella
It is fair to say that Molella is probably the most internationally successful Deejay from Italy. Molella got his major break working at Radio DeeJay, and in a way he had a very similar career to Mario Fargetta. Molella is indeed great in the clubs, very good at the radio console, and truly excellent when it comes to mixing and promoting his music. Molella's qualities and commercial success allowed him to access many important singers and composers in order to gain permission to remix their music. These artists tend to see Molella mixing their music as a way to gain additional exposure and expand their market share.
Paoletta
Paola Pelagalli is a female phenomenon in a world usually dominated by men. Paoletta, like most of her colleagues, is also a Radio DeeJay member, although she radio hopped most of her career. She also worked for RTL 102.5, probably the most popular Italian radio of the moment. Famous for her radio shows and live appearances, Paoletta truly enjoys her work and is probably the best female voice in the Italian radio universe.
Continues to Part II of Top Italian DeeJays