Trash Comedy and Sexy Comedies: 70's and 80's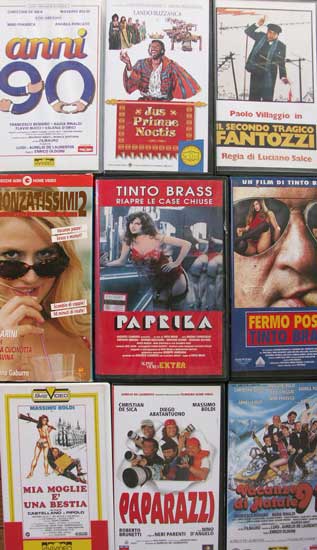 I believe that Italian movies are essential to understanding Life in Italy. La commedia all' Italiana shows best of Italy, always with a touch of irony.
One different aspect of the Italian movie comedy is the 70s sexy comedy (olso referred to as commedia Trash), a style of its own that definitely has its followers. We can compare this type of comedy perhaps with Cheech and Chong, but sex or the search for sex, not smoke, is what the movie was all about. Popular actors of this genre included Lando Buzzanca, Lino Banfi, Mario Carotenuto, Aldo Giuffre', Aldo Maccione, Pippo Franco, Bombolo, Renato Pozzetto, Gianfranco D' Angelo, Alvaro Vitali,Renzo Montagnani, Edwige Fenech, Laura Antonelli,Gloria Guida, Anna Maria Rizzoli, Barbara Bouchet,Carmen Villani.
Most of the protagonists of the Italian Trash comedy of the 1970s and 1980s later abandoned this genre and continued their careers both in cinema and theater taking more serious roles. The Italian Trash comedy was bot a spy of its times and a reaction to the previous Italian movie history. Italian cinema was forced to show idealistic and unrealistic movies during the fascist regime and reacted with the neorealism. However the public soon got tired of this dark portray of life and comedies (good comedies ) ruled the 1950s and 1960s. Censorship in Italy in the 1960s was however still strong and it did not relax till the 1970s when the sexy-comedy style (commedia sexy or commedia all' italiana) was finally born. The style is never pornographic but it plays on sexy-comic situation with want to be super machos like Lando Buzzanca and later Christian De Sica go after super sexy bombs like Edwidge Fenech (queen of the Commedia sexy ) –

Trailer Vacanze di natale '95.
Italian Sexy Comedies list:
Moglie in bianco, L'amante al pepe. L
Banfi 1980
Chiavi in Mano
Quel Gran pezzo della Ubalda Tutta nuda tutta calda
Quando le donne persero la coda ( Buzzanca,  Mule' )
Jus Primae Noctis with Lando Buzzanca,
Renzo Montagnani, Marilu' Tolo Paolo Stoppa
Vieni Avanti Cretino Directed by L. Salce with Lino Banfi
During the same period, an 'extra-light' money-making line of movies were made with Christian De Sica and Massimo Boldi, who teamed up in many comedies. These are roughly the equivalent (actually lower than) the Chevy Chase "Vacation" series or Dumb and Dumber.
These films included:
Attenti a quei P2
Grandi Magazzini
Ma che siamo tutti matti?
SPQR
Vacanze di Natale ( see cinepanettoni )
Vacanze di Natale 91 1991
Vacanze di Natale 95
Juppies
Juppies 2 ( C. De Sica, , Ezio Greggio, M Boldi, Jerry Cala)
Rimini Rimini un anno dopo
Rimini Rimini, P Villaggio+ L Antonelli
Anni 90
Anni 90 Parte seconda
Compagni di scuola, Alessandro Benvenuti and Christian De Sica
I do like the trashy Italian comedy and I enjoyed the above movies even though they
are perhaps an acquired taste.
Also s slightly different extra light genre but still in the 'trash category' is Paolo Villaggio
in
Fantozzi
Fantozzi contro tutti….