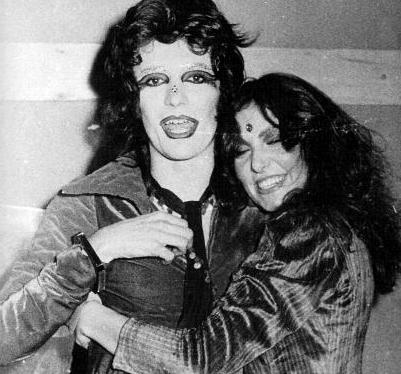 The 1970s were not an easy period in Italian history: generally known as the Anni di Piombo, the lead years, the 70s are, today, short of being considered a decade of factual civil war between established and terroristic powers. It is also for this reason that in the 1970s, Italian music keeps on following that path of socially engaged singing-songwriting already begun in the1960s, in particular with the Scuola Genovese: it is the decade when Fabrizio De André finds full success and rightly enters the realm of the most iconic Italian artists of all times.
Other songwriters, such as Francesco Guccini, or the band I Nomadi found success in the 1970s with their politically pregnant lyrics, accompanied by folk and traditional musical rhythms. Sexual liberation takes centre stage, too, in the flamboyant figure (and platform shoes) of Renato Zero,  the first artist in Italy to play with gender ambiguity and to openly propose the idea of a "triangolo" (a threesome) to the couples of the Bel Paese, in one of his most famous songs.
Political awareness, but also Zero's lighthearted stress on sexual freedom and, ultimately, freedom of expression, were both children of the changes happening in Italian society during those years. Italy, as every other country in Europe, did feel the consequences of the events of 1968, but society and art reacted more slowly to them than in other countries, such as France or the UK.
One has to consider that Italian society had kept a more traditional, family-based imprinting and for this reason "social revolutions" had been slower: divorce became legal in Italy in 1970, but had already been in France (with changes, and less favorable periods) since the end of the 18th century and in the UK since the end of the 19th. Similarly, Italy legalized abortion only in 1978, once again much later than other states such as the UK (1967) and France (1975).  Contraception, in the form of the contraceptive pill, became available to women in the 1970s, too, a factor considered by many ultimate sign of the finally achieved freedom of women from patriarchal society. In short, the 1970s emphasized that growing sense of social responsibility already present in the late 1960s, bringing it center stage and making it even more a source of artistic inspiration.
But music in the 1970s was not only politically engaged: Italy's always been known for its love songs and the 1970s only added to an already long list of classics. Above all stands Lucio Battisti, but others, such as Francesco De Gregori and Claudio Baglioni have left a mark and are still popular today. Others, such as Antonello Venditti or Roberto Vecchioni, have associated their name powerfully with the musical tradition of Rome and Milan respectively, but gifting the whole country with some of its best loved and known successes.
Differences in ideology and contents, but also some things in common: Italian musicians of the 1970s have distinguished themselves for their renewed interest not only in international musical traditions, but also in traditional Italian music. American jazz and folk, but also ethnic and medieval music all became source of inspiration for this generation of artists. Possibly tied to the necessity to better explore these new musical horizons, Italians singers and songwriters of the 1970s began to pay more attention to musical instruments and their role within their compositions' arrangement. From a technical point of view, this is probably the most interesting aspect of the decade: a newly found attention to musical technique and theory, directed to the embellishement and enrichments of each and every song.
The greatest  names of the decade? Certainly Fabrizio de André, Lucio Battisti, Renato Zero, but also Francesco de Gregori, Francesco Guccini, Claudio Baglioni and many, many more.
Francesco de Gregori 
From Rome, de Gregori is today one of Italy's best known and best loved artists. His music, influenced by rock, folk and even traditional music, is highlighted by lyrics of strong literary allure. The simplicity of his melodies, often created for and performed with a simple guitar and a mouth organ, support contents of historical, emotional and, at times, social resonance. His beginnings are at the Folkstudio in Rome, where he meets and begins collaborating with Antonello Venditti. In this period, he also forms a cover duo, specialized in performing Bob Dylan and Leonard Cohen's material.
In 1973 he publishes his first solo album "Alice non lo sa", home to one of his greatest successes "Alice". The public fully embraces his music in 1975, when he produces the album "Rimmel" (in Italian, Rimmel is not only the name of a makeup brand, but also used to be the general name with which women would call mascara). Throughout the decades, he collaborates with other monsters of Italian music such as Fabrizio de André, Lucio Dalla, Ivan Graziani. His fans are as numerous today as they were in the 1970s and successes such as "Rimmel", "Alice", "Buonanotte Fiorellino", "La Donna Cannone", are part of Italy's collective, artistic memory.
Francesco de Gregori, "Rimmel."
Francesco Guccini
From Modena, Guccini is the epythome of the Italian politically engaged artist. His career started already in the late 50s and early 60s, when he began performing with some friends in a band called "I Gatti" (the cats). After quitting the band, towards the end of the 60s, he collaborates with already established artists and writes songs for the likes of Caterina Caselli, the Équipe 84 and i Nomadi. His first solo album is dated 1967 and it was, by admission of the artist himself, a veritable flop. Some of his best known songs come, however, from this relatevely unlucky period: "Canzone per un'Amica", recorded in his first album with a different title, was to become a success the following year thanks to I Nomadi; "Auschwitz", another of Guccini best known songs, had been performed for the first time in these years. True success came, however, between 1972 and 1980: these are the years of "La Locomotiva", "Via Paolo Fabbri 43", "Cirano."
His 1974's album "Stanze di Vita Quotidiana" is considered among  the best of his career from a critique point of view, whereas his popular consacration come two years later, in 1976, with "Via Paolo Fabbri 43". Since then, Guccini has only increased his success, as well as having achieved full literary and artistic recognition.
Francesco Guccini, "Canzone per un'amica"
Claudio Baglioni
Baglioni was born in Rome in 1951 and is especially known for his love ballads. Every single Italian knows at least one song by Claudio Baglioni: s/he may not necessarily like it, but knows it nevertheless. His are the ballads one used to sing on the bus while on school trips, or sitting around that only friend who played guitar, during parties or Summer holidays. Baglioni's recipe for success was easy: singing about something all know about, love. His songs, often sticky-sweet, never failed to please the larger public. From the 1970s are his most popular successes: "Questo Piccolo Grande Amore", "E tu", "Sabato Pomeriggio", "Solo", "E tu come Stai."
However, Baglioni's style evolved with time: although he kept producing successful love songs also in later years, he has eventually adopted more introspective approach to songwriting. From the 1980s are his successes "Mille Giorni di te e di Me", "Strada Facendo", and the album "La Vita è Adesso", considered the highest selling album in Italy of all times. In the 1990s and early 2000s, Baglioni has also engaged with tv work and became an appreciated anchorman.
Claudio Baglioni, "Tu Come Stai."
Read more on the history of Italian music in our