Music is very important for Italians, because singing is part of our own history and tradition. Traditional Italian music has had, since the 1950s, a most prestigious appointment followed by the entire country: the Festival di Sanremo. 
The Festival di Sanremo is also known as Il Festival della Canzone Italiana, the festival of Italian music. It takes place at the famous theatre Ariston in Sanremo where, for a week, famous -and less so- Italian singers and performers propose original songs, newly written just for the occasion.
The first Festival of Sanremo was organized by the entrepreneur Pier Busseti and was broadcasted on the radio in 1951. Italians embraced the Festival straight away, and their love for its music  and allure never quivered. The Festival' s week sees singers and stars walk Sanremo's red carpet, surrounded by the beautiful flowers of Liguria, under the eyes of millions of Italians.

Albano and Romina Power at 1984 Sanremo festival
The competition
The competition is divided in two categories: famous singers and new proposals. The first includes well known performers, already popular and well liked on the Italian music scene.
The second category is made up of  both unknown or relatively young artists, who use the Festival as a platform to show their abilities and become famous. However, it is not atypical for those who win the festival not to become famous afterwards: it is, often, their only successful song.
There is a rule that all participants must follow: the song they perform must have never been performed in public and must be entirely original. 
Nilla Pizzi, Adriano Celentano, Little Tony, Iva Zanicchi, Ornella Vanoni, Milva, Renzo Arbore, huge names in the history of Italian melodic music, are only some of the famous  singers who have taken part in the Festival of Sanremo in the course of its history.
More recently, Eros Ramazzotti and Laura Pausini, who became huge starts all over the world, have also been part of the Festival, the first winning the overall competion in 1986 with "Adesso Tu", the latter gaining the "Nuove Proposte" in 1992 with "La Solitudine". Sanremo has been, to both artists, the beginning of an increasingly successful career.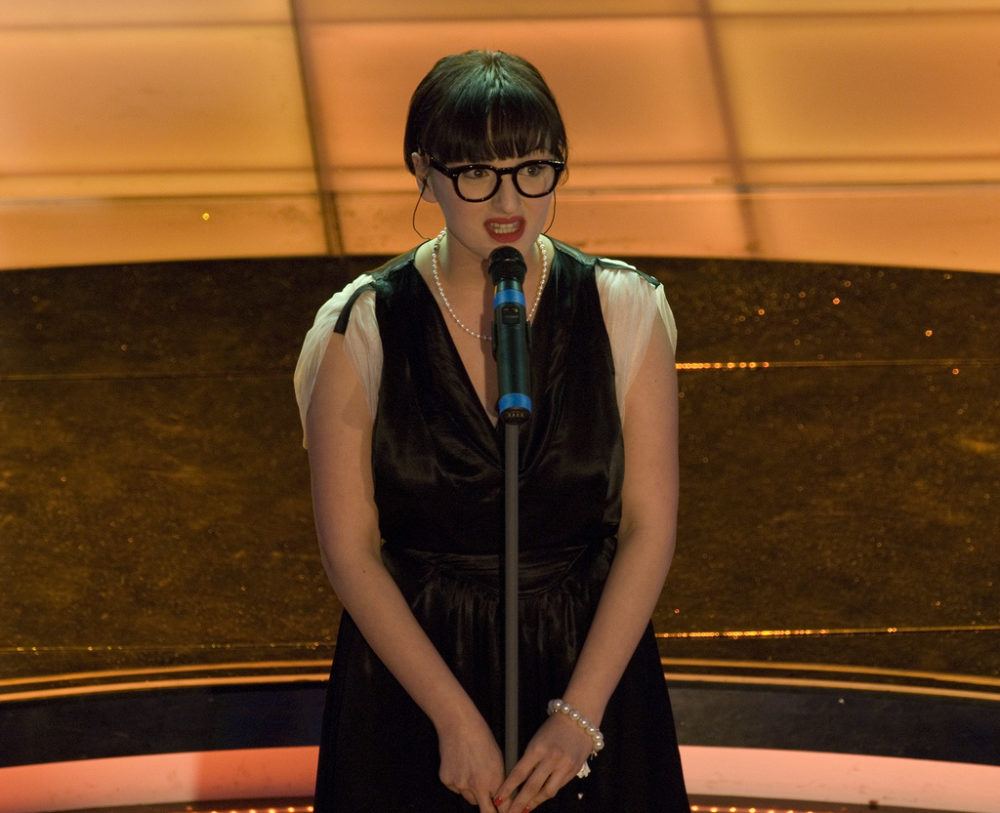 The Festival, though, is not only about the music and its singers.The Festival also belongs to its presenters, who often play a very important role in determining the success or failure of the event. Certainly, when you say Festival di Sanremo almost every Italian will think of two names: Pippo Baudo and Mike Bongiorno,  who anchored the show many times (Pippo Baudo 13 times, Bongiorno 11) and, thoroughout the years, made it theirs.
The Festival is also an occasion to remember big names of the Italian music. Every year one evening is kept for covers of important songs of the past. The first evening in 2017 witnessed a touching moment when Tiziano Ferro sang a song by Luigi Tenco, 50 years after he committed suicide during the Festival.
The Festival di Sanremo is, therefore, not only a music festival, but a truly cultural event, which is today considered a bona fide Italian tradition.  Some of Italy's best known singers and performers have begun their career on the stage of the Ariston and many of our best loved songs have been performed on the same for the first time.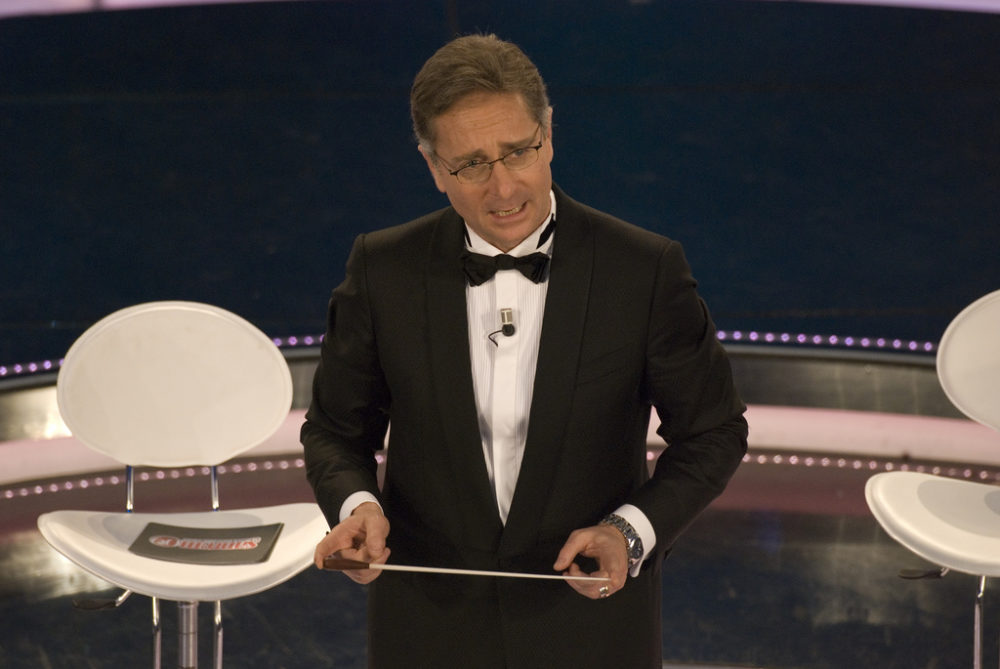 Of the "Big" category, the well-known singers, the winners of the Festival di Sanremo have been:
1951: Nilla Pizzi with Grazie dei Fiori
1952: Nilla Pizzi with Vola Colomba
1953: Carla Boni and Flo Sandon's with Viale d'autunno
1954: Giorgio Consolini and Gino Latilla with Tutte le mamme 
1955: Claudio Villa and Tullio Pane with Buongiorno tristezza 
1956: Franca Raimondi with Aprite le finestre 
1957: Claudio Villa and Nunzio Gallo with Corde della mia chitarra 
1958: Domenico Modugno and Johnny Dorelli with Nel blu dipinto di blu
Domenico Modugno singing "Nel blu dipinto di blu" at the Festival of Sanremo in 1958
1959: Domenico Modugno and Johnny Dorelli with Piove 
1960: Tony Dallara and Renato Rascel with Romantica 
1961: Betty Curtis and Luciano Tajoli with Al di là 
1962: Domenico Modugno and Claudio Villa with Addio… addio 
1963: Tony Renis and Emilio Pericoli with Uno per tutte 
1964: Gigliola Cinquetti and Patricia Carli with Non ho l'età (Per amarti) 
1965: Bobby Solo and New Christly Minstrels with Se piangi se ridi 
1966: Domenico Modugno and Gigliola Cinquetti with Dio come ti amo 
1967: Claudio Villa and Iva Zanicchi with Non pensare a me 
1968: Sergio Endrigo and Roberto Carlos Braga with Canzone per te 
1969: Bobby Solo and Iva Zanicchi with Zingara
1970: Adriano Celentano and Claudia Mori with Chi non lavora non fa l'amore
Adriano Celentano and Claudia Mori singing "Chi non lavora non fa l'amore"
1971: Nada and Nicola di Bari with Il cuore è uno zingaro 
1972: Nicola di Bari with I giorni dell'arcobaleno 
1973: Peppino Di Capri with Un grande amore e niente più 
1974: Iva Zanicchi with Ciao cara come stai? 
1975: Gilda with Ragazza del Sud 
1976: Peppino Di Capri with Non lo faccio più 
1977: Homo Sapiens with Bella da morire
1978: Matia Bazar with …e dirsi ciao 
1979: Mino Vergnaghi with Amare 
1980: Toto Cutugno with Solo noi 
1981: Alice with Per Elisa
Alice singing "Per Elisa" at the Festival of Sanremo in 1981
1982: Riccardo Fogli with Storie di tutti i giorni 
1983: Tiziana Rivale with Sarà quel che sarà
1984: Al Bano and Romina Power with Ci sarà 
1985: Ricchi e Poveri with Se m'innamoro 
Ricchi e Poveri singing "Se m'innamoro" at the Sanremo Festival in 1985
1986: Eros Ramazzotti with Adesso tu 
1987: Gianni Morandi, Enrico Ruggeri and Umberto Tozzi with Si può dare di più 
1988: Massimo Ranieri with Perdere l'amore 
1989: Anna Oxa and Fausto Leali with Ti lascerò 
1990: Pooh with Uomini soli 
1991: Riccardo Cocciante with Se stiamo insieme 
1992: Luca Barbarossa with Portami a ballaer 
1993: Enrico Ruggeri with Mistero 
1994: Aleandro Baldi with Passerà 
1995: Giorgia with Come saprei 
1996: Ron and Tosca with Vorrei incontrarti fra cent'anni 
1997: Jalisse with Fiumi di parole 
1998: Annalisa Minetti with Senza te o con te 
1999: Anna Oxa with Senza pietà 
2000: Avion Travel with Sentimento 
2001: Elisa with Luce (Tramonti a nord est) 
Elisa singing "Luce" at the Festival of Sanremo in 2001 
2002: Matia Bazar with Messaggio d'amore 
2003: Alexia with Per dire di no 
2004: Marco Masini with L'uomo volante 
2005: Francesco Renga with Angelo 
2006: Povia with Vorrei avere il becco
2007: Simone Cristicchi with Ti regalerò una rosa 
2008: Giò Di Tonno and Lola Ponce with Colpo di fulmine 
2009: Marco Carta with La forza mia 
2010: Valerio Scanu with Per tutte le volte che…
2011: Roberto Vecchioni with Chiamami ancora amore 
2012: Emma with Non è l'inferno 
2013: Marco Mengoni with L'essenziale 
2014: Arisa with Controvento 
2015: Il Volo with Grande Amore
2016: Stadio with Un giorno mi dirai
Guests at the Festival di Sanremo
The Festival has always had some guests of International prestige. Some of these did not conform to the traditional substance of the Festival, often accused of being too classic and anchored to the same old artists, thus causing debates and arguments.
Among the many artists that cut through the Ariston stage, there are the Queen, in 1984, Village People in 1985, Europe and Elton John in 1989, Liza Minelli and Tina Turner in 1990, Cindy Lauper in 1995, Bon Jovi and Bruce Springsteen in 1996, David Bowie the following year, Cher and REM in 1999, Gwen Stefani in 2005, Avril Lavigne in 2011.
Probably the most "shocking" was Dita von Teese, the famous Burlesque queen, that in 2010 stripped on the stage, remaining covered only in diamonds worth 2,5 million dollars.
Dita Von Teese stripping at the Sanremo Festival in 2010
In 2015 it was the presence of drag queen Conchita Wurst, that won the Eurovision Song Contest in 2014, to raise complaints, mainly from the Catholic advocacy groups. This, of course, up to when the winning song became the centre of the real controversy of the Festival.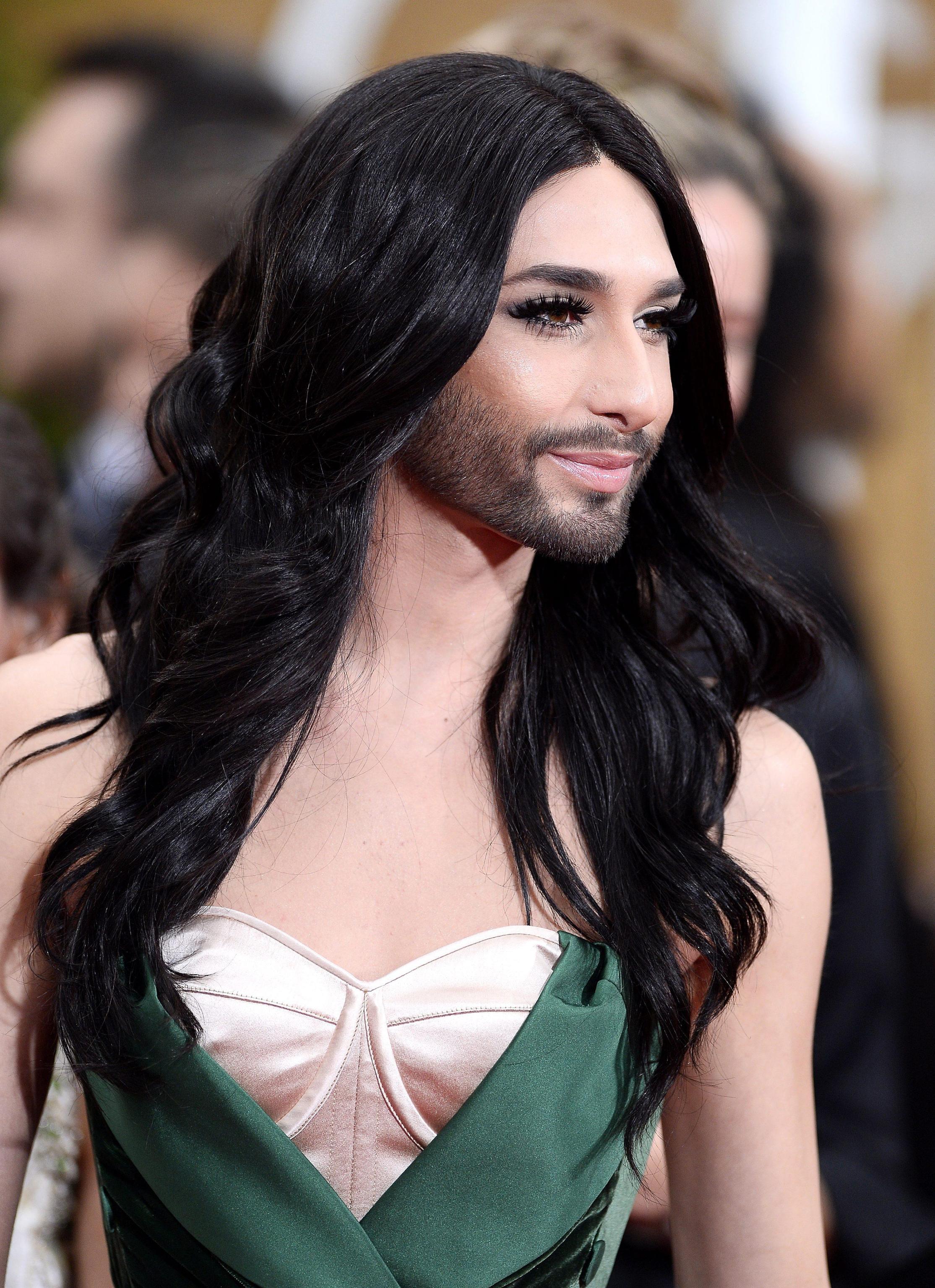 For the third time, in 2017 the Festival will be hosted by Carlo Conti, together with Maria De Filippi. Among the international artists that will be guest at the Festival di Sanremo this year are Ricky Martin, Rocio Munoz Morales, Keanu Reeves, Robbie Williams, Biffy Clyro, Mika and Alvaro Soler.
The Festival di Sanremo is an event that draws millions of viewers every evening, attracted not only by the music, but also the culture, the fashion, the gossip that revolve around this music show.
Edited by Francesca Bezzone