Rod Stewart asked what would become of his lover when they stripped her of: '…the handbags and the glad rags that your grandad had to sweat so that you could buy them.' Mrs. Thatcher called hers her 'trusty companion' and the word 'handbagging' was invented to describe her browbeating tactics. Some famous handbags in literature include the bag which contained Jack/ Earnest in Oscar Wilde's play, The Importance of Being Earnest and Anna Karenina's red velvet handbag which she threw onto the railway tracks before throwing herself onto them.
Expensive handbags confer status and certainly have an aura about them. Hundreds of women are on the waiting lists for the infamous Kelly and Birkin bags even though their prices are enormous. A vintage crocodile Hermes Birkin bag with diamond clasps recently sold for over $64,000.00. In the modern fashion sense, carrying a Chanel bag is a way of doing Chanel, without being clad in Chanel from top to toe. It is liberating, but it can also be ruinous, some women go into debt just so that they can carry a designer bag!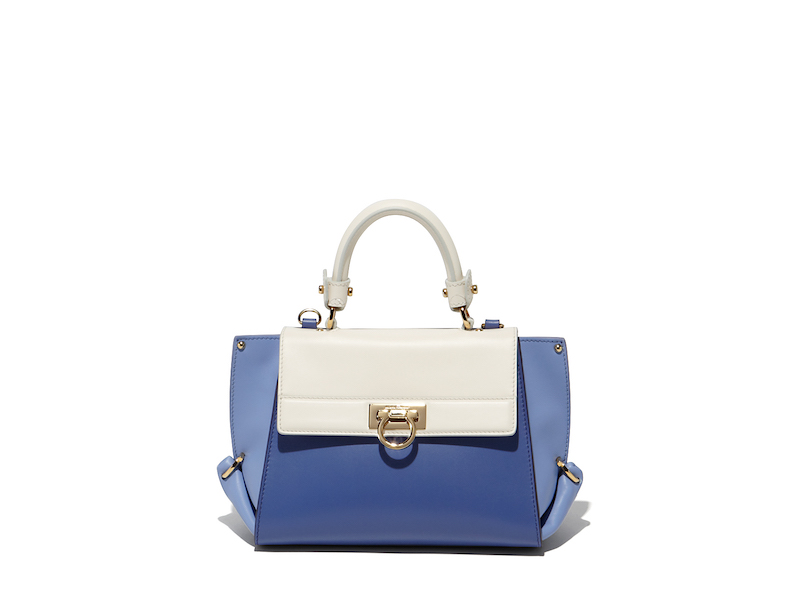 The Origins of the Handbag
Ancient peoples probably carried bags made of leaves and wood. Later Egyptian hieroglyphs show men carrying bags around their waist. Surprisingly, bags were initially carried by men, not women. But by the Middle Ages, metal frames were developed and drawstring purses were hung from the waist or the hips.
Medieval Handbags
Men and women both carried bags during the Middle Ages which were worn slung across the shoulder or hung from the waist. They were especially important for traveling. Large bags were usually worn by peasants because they held many articles and often by workers in the fields, who carried seeds in their bags.
Small coin purses began to be used to give money away to beggars or to contain money for gambling, a popular pastime amongst the wealthy. Women wore bags which hung from girdles and carried personal items that they needed. Bags would often be given by men as presents to their ladies and began to be decorated with embroidery, beads, and other ornate embellishments.
Women often carried herbs and perfumes, such as lavender and lemon verbena, in their bags because of the evil smells in the atmosphere. Pomanders were also worn to combat these nasty smells.
Later Centuries
According to Carried Away: All About Bags by Vandome, the first versions of the modern purse came along in the late 18th century. Until this time, women wore separate pear-shaped pouches or pockets under their clothes, somewhat like the money bags some people wear today. Men however wore their bags separately.
The Regency period saw the rise of the reticule, which derived its name from the Latin for a net or a network of lines, 'reticulum'. This small purse became popular because of the figure-hugging design of Regency clothes that made it impossible to hide bags underneath them.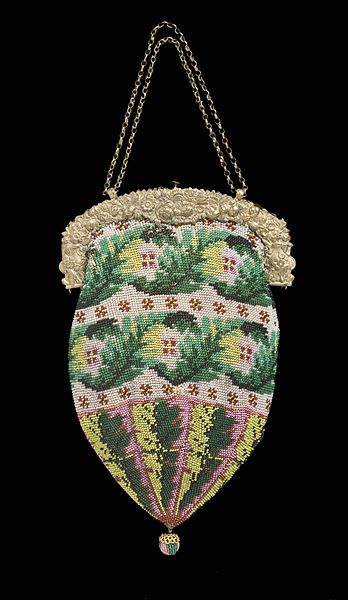 The very fashionable Empress Josephine would not be seen without her reticule when she was in Egypt and its popularity soon spread to the rest of the Western world.
These very pretty items, carried on chains or drawstrings, were often beaded or embroidered and made of sumptuous materials like velvet and silk. Some, however, were simple and crocheted or netted. Women often enjoyed making purses and they began to judge each other's status by the expense of their reticule. They still do this today!
Traveling Bags
The word 'handbag' wasn't used until the 19th century. Surprisingly, it developed from small travel bags for ladies made in the 1860's. These were made of leather and featured locks and toilet compartments. Later Hermes designed handbags which were often revised saddle bags or bags that had originally been meant to contain horse-feed or horse blankets!
Bags went out of fashion for a while with the looser styles of clothing in the late 1800s but came back with a vengeance again in the 20th century when the hobble skirt became popular. Early 20th century saw the emergence of one of the greatest names in handbag fashion today: Louis Vuitton.
Louis Vuitton originally packed Empress Eugenie's luggage and then started making travel trunks for the wealthy. It wasn't until much later that his company began making handbags. The Louis Vuitton 'keep-all' bag, designed in 1924, lived up to its name and was a very useful, streamlined travel bag.
The Twentieth Century
Handbags became a symbol of women's independence in the 20th century, according to Handbags: The Power of the Purse by Anna Johnson. Chanel saw their potential and managed to increase their popularity to a great extent, by introducing handbags that suited the times. One iconic Chanel bag was the lovely quilted clutch with the chain strap, inspired by jockey's gilt jackets.
Always a mystery and a subject of fascination to men, women now use handbags to carry everything from lipstick to condoms, along with dogs in certain cases! In this century, we have seen every texture and material from space age synthetics by Prada to hand-woven straws by Cavalli. There are rain-proof bags by Gucci, sturdy totes by Salvatore Ferragamo, delicate fabric handbags by Cellini for the evenings out, and leather shoulder bags by Fendi: a designer handbag for every occasion, not to mention hundreds of more affordable yet diverse bags from brands from all over the world.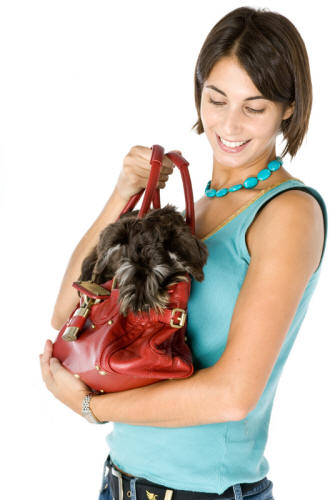 Designer French and Italian handbags are regarded as the very best. They are always excellent investments and even special heirlooms to pass on to other members of the family. Gucci, Prada, Fendi, Cellini – these elegant, finely-crafted bags look wonderful and inspire envy and admiration. As the great designer, Giorgio Armani, said: "Accessories are important and becoming more and more important every day. "
By Lisa-Anne Sanderson
Edited and updated by Damyanti
Related Articles
Italian Fashion: Womens Make Up, Garments, and Accessories
The History of Women`s Lingerie